Keyakizaka46 9th Single – new Senbatsu system, old Center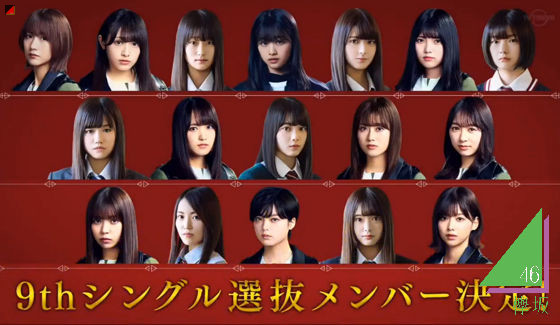 The Japanese idol group Keyakizaka46 announced the line-up for the 9th single on 8 September 2019 during the TV show "Keyakitte kakenai!".
The single features a premiere which has already been indicated with the entry of the 2nd generation. A Senbatsu system was introduced, which splits the group into two parts. Also that Hirate Yurina again is Center of the single no one has surprised. What was surprising was that many popular members of the 1st generation were transferred to the second squad. Instead, seven members of the 2nd generation were appointed to the Senbatsu.
3. Row: Habu Mizuho, Watanabe Rika, Inoue Rina, Harada Aoi, Seki Yumiko, Uemura Rina, Fujiyoshi Karin
2. Row: Takemoto Yui, Sugai Yuuka, Morita Hikaru, Moriya Akane, Sato Shiori
1. Row: Kobayashi Yui, Matsuda Rina, Hirate Yurina, Tamura Hono, Watanabe Risa