Ikuta Erika in "Shigatsu wa Kimi no Uso" Musical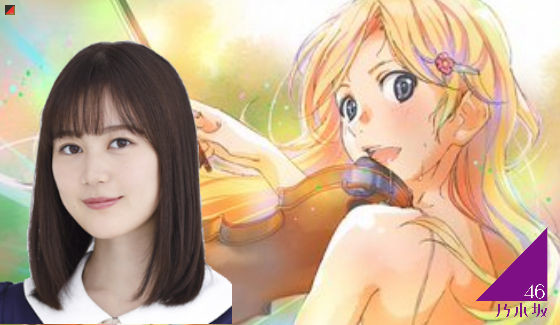 The musical adaptation of the popular manga Shigatsu wa Kimi no Uso (Your Lie in April) by Arakawa Naoshi will be performed again and Nogizaka46 member Ikuta Erika will play the leading role the violinist Miyazono Kaori. The musical will be performed at the new Tokyo Ikebukuro Theater "Tokyo Building Brillia HALL" starting July 2020.
The free-spirited 14-year-old violinist Miyazono Kaori, whose playing style reflects her manic personality, helps Kosei Arima, a child prodigy at the piano, to return to the musical world by urging him to play the piano again. Kosei Arima suffered a trauma when his mother suddenly died during a competition and he could no longer hear his piano playing. Miyazono Kaori shows him through her violin playing that, in contrast to the structured and rigid style Kosei plays, she appears free and lively. She finally convinces Kosei to play the piano again, first as her accompanist and later at a piano competition. Kaori, however, is suffering her whole life from an unknown serious illness, from which she dies in the end.