Making-of for "3-2" published by HKT48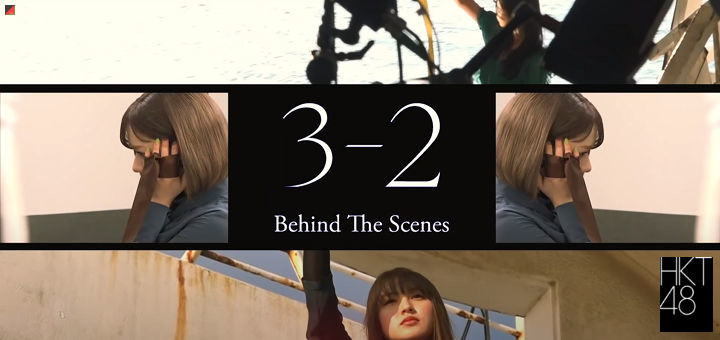 The Japanese idol group HKT48 has released the making-of to the video of their title song "3-2" of the 13th single on YouTube. Despite a lockdown in Japan, the single currently tops the ORICON Weekly Single Chart.
"3–2 Making-of"
"3–2"
"Oshaberi Juke Box"
"Kiss no hinabira"
"How about you?"
Cover:
Senbatsu:
Matsuoka Natsumi, Motomura Aoi, Mizukami Rimika, Watanabe Akari, Moriyasu Madoka, Tashima Meru, Kojina Yui, Murashige Anna, Matsumoto Hinata, Kamijima Kaede, Yamashita Emiri, Matsuoka Hana, Tanaka Miku, Toyonaga Aki, Jitoe Nene, Unjo Hirona
Eiko no labyrinth CM 2020 Senbatsu:
Akiyoshi Yuka, Aramaki Misaki, Ueno Haruka, Oda Ayaka, Kurihara Sae, Sakai Moeka, Sakaguchi Riko, Sakamoto Erena, Shimizu Rio, Takeda Tomoka, Tashima Meru, Jitoe Nene, Toyonaga Aki, Fuchigami Mai, Watanabe Akari and Kamijima Kaede.
Chou (Type A):
Kojina Yui, Kurihara Sae, Matsuoka Natsumi, Matsumoto Hinata, Miyazaki Sono, Moriyasu Madoka and Yamashita Emiri.
Lit charm (Type B):
Imada Mina, Imamura Maria, Ueno Haruka, Kumazawa Serina, Sakaguchi Riko, Shimono Yuki, Matsuoka Hana, Motomura Aoi and Takemoto Kurumi.
Tracklist:
M1: "3–2" (Senbatsu)
M2: Oshaberi Jukebox (Eiko no labyrinth CM 2020 Senbatsu)
M3A: Kiss no Hanabira (Chou)
M3B: How about you? (Lit charm)
M3T: Seishun no Deguchi (HKT48)