Hinatazaka46 Unit Request Hour for the 2nd Anniversary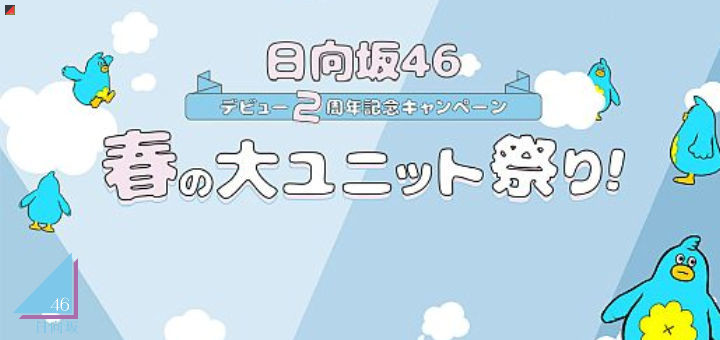 The Japanese idol group Hinatazaka46 will celebrate its 2nd anniversary on 27 March 2021. The group has planned an anniversary concert "Hinatazaka46 SPRING BIG UNIT FESTIVAL" where fans can participate in choosing the songs. Fans can vote until 11 February 2021.
Fans can create their own unit from Hinatazaka46 members
.
Fans can compose their personal BEST playlist in seven categories from 23 songs. Hinatazaka46 management collects the answers and arranges the concert based on them. The following categories and songs are available.
Categories:

Song to use as background music at home.
Song to listen to when you're at your best.
Song that made you become a Ohisama.
Song that fill you with a happy aura.
Song that make you hungry for some reason.
Song that you want to give as gifts to your loved ones.
Song you want to sing at karaoke.

Songs:

Neko no Namae
Senkou Hanabi ga Kieru Made
Wazuka na Hikari
Knock wo Suru na!
Halloween no Kabocha ga Wareta
Chinmoku Shita Koibito yo
Kirei ni Naritai
Natsuiro no Mule
Otoko Tomodachi Dakara
Sanrinsha ni Noritai
Igokochiwaruku Otona ni Natta
Warenai Shabondama
Footsteps
Cage
Yasashisa ga Jama wo Suru
Masaka Guuzen…
Ichiban Sukida to Minna ni Itte ita Shousetsu no Title wo Omoidasenai no Taitoru wo Omoidasenai
Mama no Doresu
Mado wo Hirakenakute mo
Nazee
Doushite Ame da to Itta Darou
See Through
Kono Natsu wo Jamu ni Shiyou