Hinatazaka46 cries at "Spring Big Unit Festival"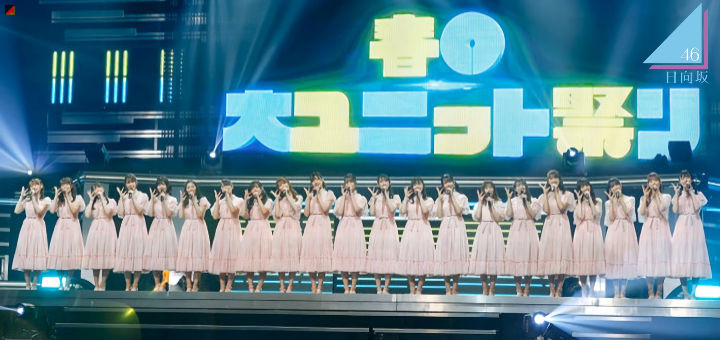 Hinatazaka46 celebrates its 2nd anniversary over two days.
On 26 March 2021, Hinatazaka46 began their two-day "Hinatazaka46 Debut 2nd Anniversary Campaign" with the "Spring Big Unit Festival – Ohisama Best Playlist 2021", which was presented without an audience and therefore live-streamed to the internet.
The second anniversary of their debut was the perfect time to look back on the history of Hinatazaka46. And it was a concert by "Ohisama" for "Ohisama".
On the first day, the "Spring Big Unit Festival" featured many songs from units from their days as "Hiragana Keyaki," Hinatazaka46's predecessor. During this, members from various booths were always inserted at the bottom left of the screen, supporting the members who were currently singing with fan towels and glow sticks. On panels, messages were sent to "Ohisama" the fans of Hinatazaka46.
The Ohisama could choose from 23 songs and assign them to a total of eight categories. The result was a really enjoyable concert.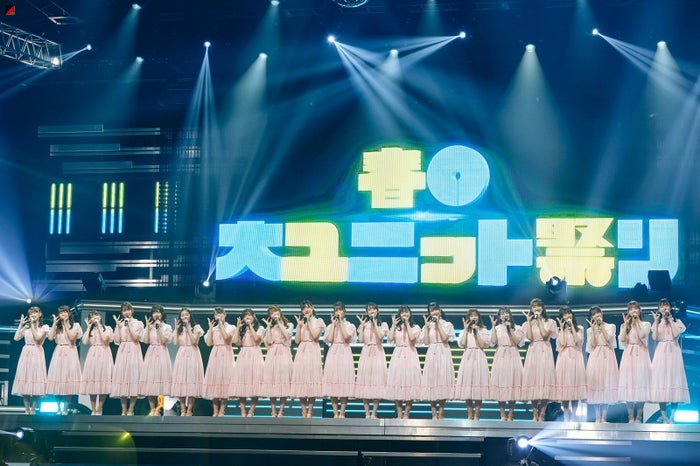 Starting with the return of Miyata Manamo.
The event began with a video showing a selection of music videos for the songs of the subgroups. Members appeared on stage in pale pink costumes with pretty ribbons, lace and embellishments.
After a greeting, Captain Sasaki Kumi spoke about Tomita Suzuka, who could not attend the concerts due to her health condition, saying, "We members will do our best for Suzu-chan." Then Sasaki Kumi had a little surprise: "Please let me introduce another important member".
Miyata Manamo, who had to take a long time off due to health reasons appeared on stage. Miyata said, "My health has not been the best for a long time, so I had to take some time off. But I wanted to get back and work with everyone as soon as possible. I will do my best from now on. Please support me in this."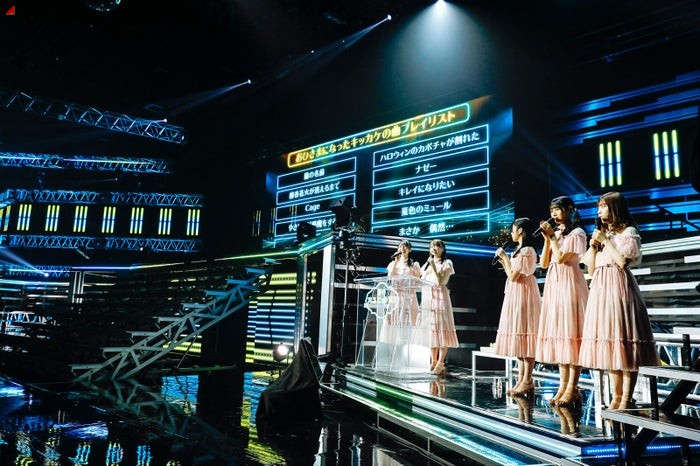 The main part of the concert began in the category: "Song that you want to give as gifts to your loved ones ".
The concert was started with the very first unit from Hiragana Keyaki "Lima Cantik" (Ushio Sarina, Kato Shiho, Saito Kyoko, Sasaki Kumi, Takamoto Ayaka). They presented their song "Mama no Dress." The group was followed by 2nd Generation duo Kanemura Miku and Kosaka Nao with "See Through."
Matsuda Konoka, who had returned to the group in December, sang solo the song "Masaka Guuzen…" which had won first place in this category.On the screen behind her, the lights of "Ohisama" from past concerts were shown with footage of the grouping Hana-chans (Matsuda Konoka, Tomita Suzuka) singing this song together. She ended with greetings to Tomita: "I hope we can sing together again soon!"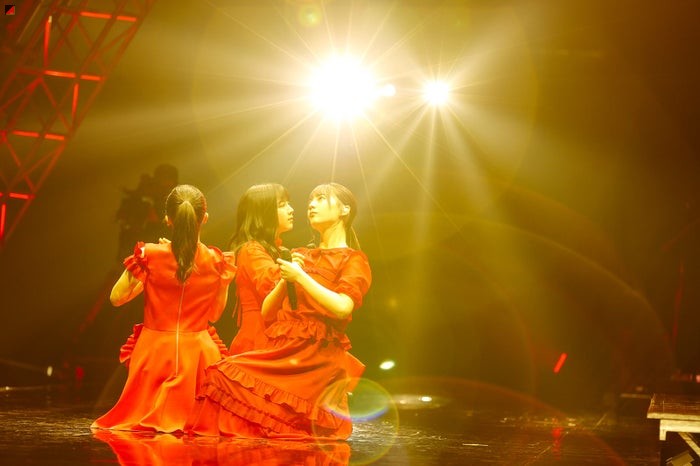 The next category was one of the most important: "Song that made you become an Ohisama".
"Chinmoku Shita Koibito yo" by "Lima Cantik" won this category. At the end of the presentation of the song with a lighthouse in front of a setting sun, Kato Shiho together with Saito Kyoko presented a cute emoji.
Ushio Sarina expressed her excitement during a moderation that this song won: "I'm so happy to have been chosen for this song because I really love it!"
At this point, a video message from Akimoto Manatsu, the current captain of Nogizaka46, was played. "Congratulations on the second anniversary of your debut. I hope you will continue to delight your fans with your cheerfulness and charisma. I will do my best to make the Sakamichi Group even more exciting for everyone. Please continue to cooperate with me! Have a happy concert today," she sent greetings to her kohei group Hinatazaka46.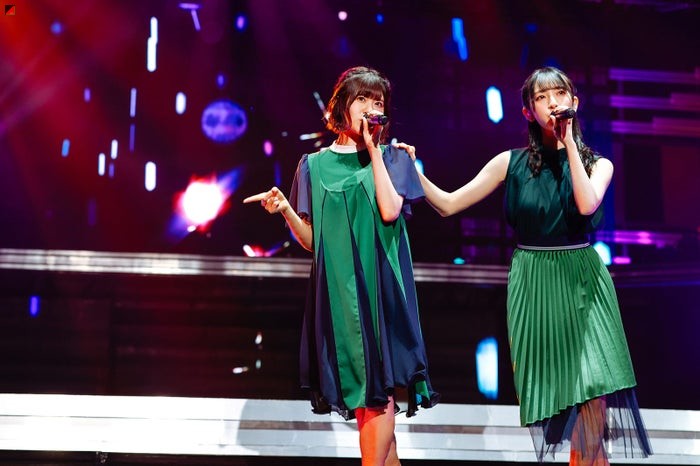 Hinatazaka46 presents its "Variety Talent".
During the "Song you want to sing at karaoke" category, members accompanied the songs with tambourines from their hygiene booths. In the winning song "Senkou Hanabi ga Kieru Made" Kanemura Miku and Matsuda Konoka impressed despite the absence of Tomita Suzuka.
In the following category, "Song that make you hungry for some reason," the tempo of the song "Doushite Ame da to Itta Darou?" made you hungry. The 1st Generation members Saito Kyoko, Sasaki Mirei and Kato Shiho showed their skills.
In the opening moderation for this category, Takamoto Ayaka hoped that "Halloween no Kabocha ga Wareta" by Lima Cantik would win this category. And when the members talked about Halloween, Kageyama Yuka revealed the "Red and Black" dress code of her high school class.
As predicted by Takamoto, "Halloween no Kabocha ga Wareta" was chosen by the fans. Lima Chantik presented the song with catchy choreography in colorful Halloween costumes. Members in their booths urged fans to "Dance with us!"
"Nazee" from the grouping "FACTORY" from the Hinatazaka46 TV drama "DASADA!" placed as well. Kawata Hina, Higashimura Mei, and Matsuda Konoka presented this mysterious song with its catchy lyrics and got the fans on the screens singing. After the song, "Matsuda said, "We got hungry singing the song, too!"
In the moderation that followed, Saito Kyoko fell into her Burikko character and sent a heart to the audience. Sasaki Kumi challenged, followed in a typical Hinatazaka manner, "Sorry! But I don't have a character like that! – I'm doing it!". Showing her variety talent.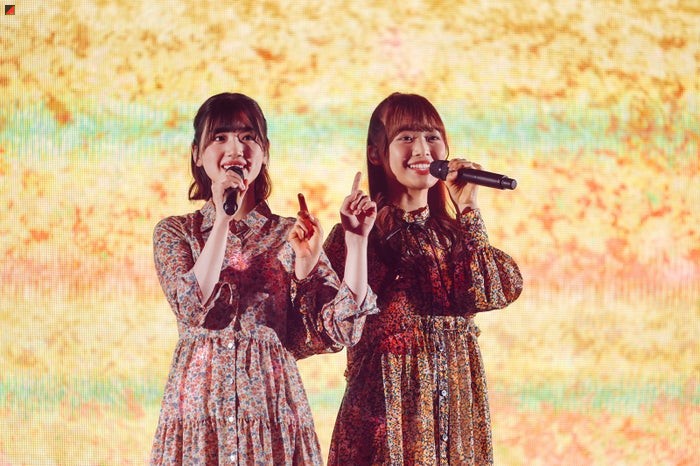 Positions of graduated members are filled.
Hamagishi Hiyori took over Kakizaki Memi's position in the song "Sanrinsha ni Noritai" in the category "Song to listen to when you're at your best". With their soft voices, they both sang this beautiful song together.
Kanamura Miku, Kawata Hina, Nibu Akari and Higashimura Mei, who usually have gentle characters, presented their song "Cage". In an impressive manner, they showed this song with its strong message while the bird cage was shown in the background. Kanemura described the song during the moderation as a picture of a bird breaking out of its cage.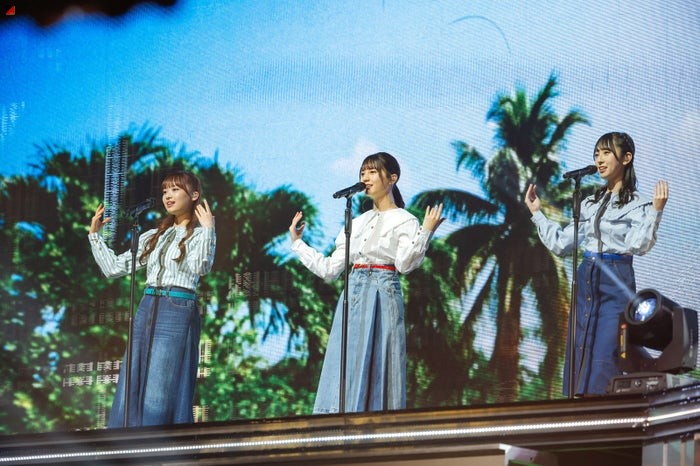 Debut of the new units.
In the most important category of the evening, "Units you want to see the most," the Ohisama were able to form new units and assign songs to them. The results were presented in a slot machine-like fashion.
The first song "Mou Konna ni Suki ni Narenai" was performed by the members of the 2002 group (Hamagishi, Kanemura, Kosaka) who graduated from high school this year. The song was shown in retro style with stand microphones. Kosaka Nao happily said, "I wished to form a group with Miku and Hiyotan in my blog."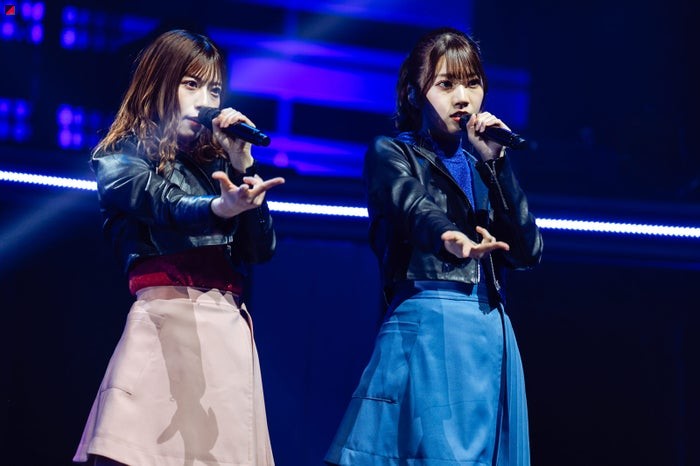 "Yume wa Nansai Made?" was presented by the duo Ayameichan (Takamoto Ayaka, Higashimura Mei) in a stunning manner with chic costumes, leather jacket and high boots. Takamoto, who is close friends with Higashimura, was overjoyed, "We always said at dinner that we wanted to form a group together. I'm really happy that our dream has come true with the help of Ohisama."
The third song "Suppai Jiko Ken Wo" from this category was presented by the Miipan family, Sasaki Mirei with her "daughters" Yamaguchi Haruyo, Hamagishi Hiyori and Kawata Hina. They sang this cheerfully sad song with its nostalgic melody with their special "Happy Aura".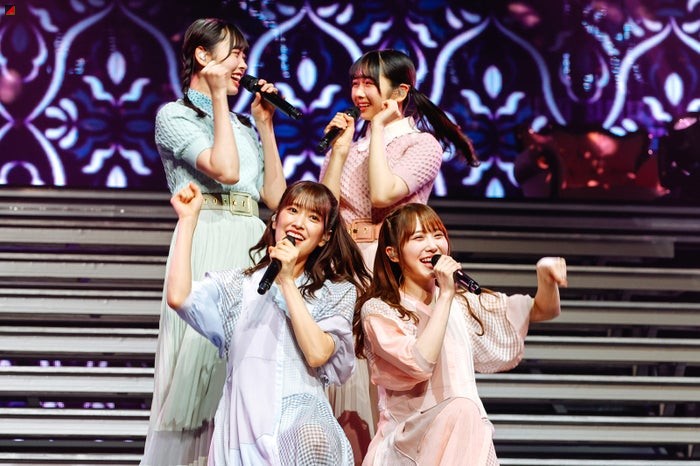 A message from Sugai Yuuka.
The Hinatazaka motto category "Song that fill you with a happy aura" began with "Neko no Namae" in which the members went from one cute cat pose to the next. The song was originally presented by a mixed hiragana keyaki (Sasaki Kumi, Kato Shiho), kanji keyaki (Sugai Yuuka, Moriya Akane) grouping. The two Kanji positions were taken by the two members of the 3rd Generation Kamimura Hinano and Takahashi Mikunin.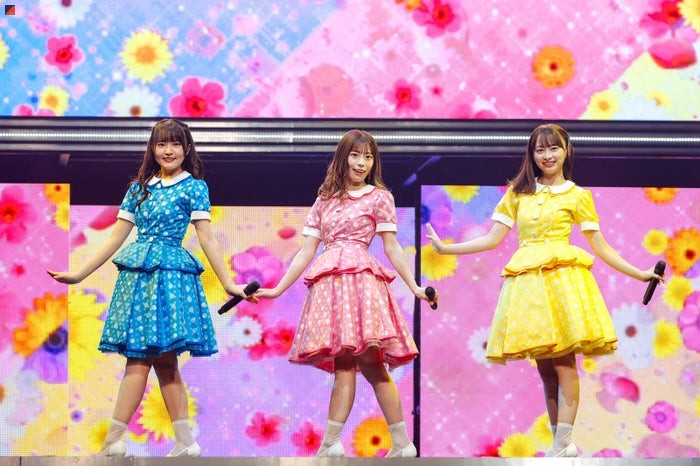 The original version of "Natsuiro no Mule" was presented by Higashimura Mei, Takase Mana and especially the former member Iguchi Mao, which made this song special. With Kageyama Yuuka a good friend of Iguchi Mao a worthy successor was found.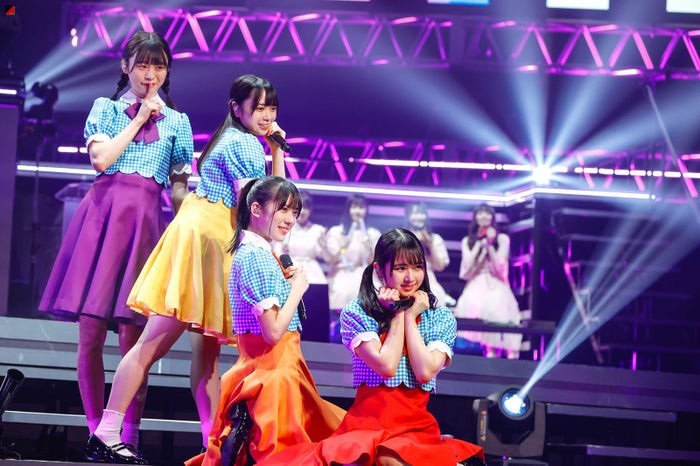 The four members of the 3rd Generation closed this category with their song "Kono Natsu wo Jamu ni Shiyou". In their colorful costumes, reminiscent of jam jars, and their charming smiles, they brought a breath of fresh air to the concert.
A video message from Sugai Yuuka, currently captain of Sakurazaka46 formerly Keyakizaka46, was then played.
Sugai Yuuka: "Congratulations to everyone in Hinatazaka46 on the second anniversary of your debut. I miss the times when we could work together. I am always amazed to see how active you guys are in many places. It's sad that we don't have many more opportunities to see each other, but we have become "Hinatazaka" of "Keyakizaka" (Hiragana Keyakizaka) and "Sakurazaka" of "Keyakizaka" (Kanji Keyakizaka). I would be happy if we could continue to work hard and build a good relationship as equal Sakamichi groups. I would be happy if we could do a concert together again one day."
Matsuda in the following moderation, "I'm so happy that I can't even speak. I'm so happy that you and she said it would be great if we could perform together again."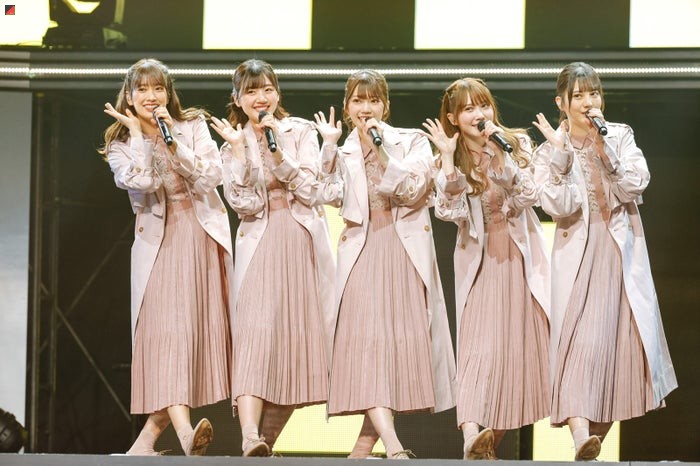 The last category of the evening "Song to use as background music at home". With a cheerful presentation of "Footsteps" the audience was pulled along. A song which is excellent against depression at home.
In the following song "Warenai Shabondama" Miyata Manamo appeared on stage for the second time and, although she was supposed to take it slow, enjoyed her performance very much. In her unique way, she acted with Kawata Hina and Hamagishi Hiyori during the song.
In the moderation afterwards with all the members on stage, Captain Sasaki Kumi stated, "We were able to play the songs today that we haven't played in a long time since the Keyakizaka days. I was so happy to be able to perform these songs today in these costumes."
At this point, the arena was darkened and videos of Ohisama were played, which together sang a birthday song for Hinatazaka46 for their 2nd anniversary of their debut.
Many members were so moved by this surprise that tears of joy flowed. Sasaki Kumi said, "When it got dark I didn't imagine anything good. I didn't think such a wonderful surprise was waiting for me. I was so happy. I am so happy to celebrate the 2nd anniversary with such wonderful "Ohisama" and members. Thank you so much," she said in a tearful voice.
At the end of the concert, all members sang "Mado wo Hirakenakute mo" together. Sasaki Kumi said upon leaving, "It was a dream come true for us a few years ago. The fact that we could show such a wonderful concert with only songs of units is the thanks to all "Ohisama" who always supported us."
Many popular songs of Hinatazaka46 unit were shown today. Many old songs from their time as Hiragana Keyaki and new songs as Hinatazaka. All with their overwhelming " Happy Aura". The Ohisama reached new previously unreachable heights today.
Haru no Dai Unit Matsuri – Ohisama Best Playlist 2021 Results
M00. OVERTURE
Welcome back, Manamo!
MC
1st Playlist: Song that you want to give as gifts to your loved ones.
M01. Mama no Dress (Lima Cantik)
M02. See Through (Nao-Miku)
M03. Masaka, Guuzen… (Matsuda only)
MC
2nd Playlist: Song that makes you become Ohisama
M04. Kirei ni Naritai (Kosaka, Nibu, Miho)
M05. Chinmoku Shita Koibito yo (Lima Cantik)
VTR : Anniversary greeting from Akimoto Manatsu
MC
3rd Playlist: Song you want to sing in karaoke
M06. Yasashisa ga Jama wo Suru (Kato, Watanabe, Kamimura)
M07. Senkou Hanabi ga Kieru Made (Kanemura, Matsuda)
MC
4th Playlist: Song that make you hungry for some reason
M08. Doushite Ame da to Itta Darou? (Saito, Mirei, Kato)
M09. Halloween no Kabocha ga Wareta (Lima Cantik)
M10. Nazee (FACTORY – Kawata, Matsuda, Higashimura)
Mini corner – Checking the celebration flower with 3rd generation members!
MC
5th Playlist: Song to listen to when you're at your best
M11. Knock wo Suru na! (Kato, Takase, Higashimura, Watanabe)
M12. Sanrinsha ni Noritai (Mirei, Hamagishi)
M13. Cage (Kanemura, Kawata, Higashimura, Nibu)
MC
6th Playlist: Units you want to see the most
M14. Mou Konna ni Suki ni Narenai (02 Line Unit – Hamagishi, Kanemura, Kosaka)
M15. Yume wa Nansai Made? (Ayameichan – Takamoto, Higashimura)
M16. Suppai Jiko Ken Wo (Miipan Family – Mirei, Yamaguchi, Hamagishi, Kawata)
MC
7th Playlist: Song that fill you with a happy aura
M17. Neko no Namae (Kumi, Takahashi, Kato, Kamimura)
M18. Natsuiro no Mule (Higashimura, Takase, Kageyama)
M19. Kono Natsu wo Jamu ni Shiyou (Kamimura, Takahashi, Morimoto, Yamaguchi)
VTR Anniversary greeting from Sugai Yuuka
MC
8th Playlist: Song to use as background music at home
M20. Footsteps (Kato, Kumi, Mirei, Takamoto, Kosaka)
M21. Warenai Shabondama (Kawata, Miyata, Hamagishi)
(Happy Birthday Greetings from Fans)
M22. Mado wo Hirakenakute mo (All member)