Fukagawa May also in this year's NHK 2021 Taiga Drama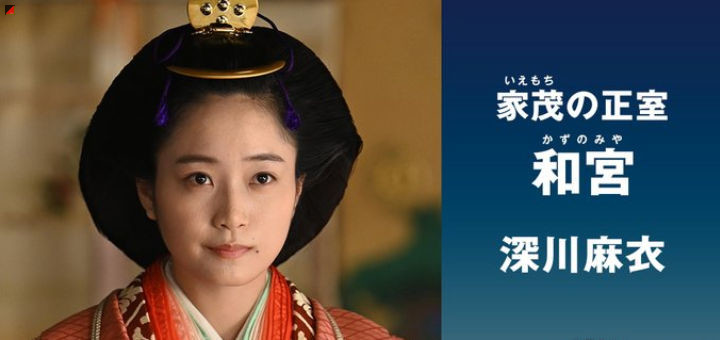 The story of the life of Shibusawa Eiichi the father of Japanese capitalism continues. Japanese TV channel NHK will air a new episode of the NHK 60th Taiga drama "Seiten o Tsuke" on 18 April 2021. The TV station has released the extended cast list and EX-Nogizaka46 member Fukagawa Mai will play Princess Kazu the wife of the 14th Shogun Tokugawa Iemochi.
Shibusawa Eiichi played an important role in building the Japanese economic system at the end of the Tokugawa Shogunate or the beginning of the Meiji era. He accompanied Shogun Tokugawa Yoshinobu's brother to the Paris World's Fair and is the founder of today's Mizuho Bank. EX-AKB48 member Kawaei Rina plays Ichijou Mikako the wife of the last Shogun Tokugawa Yoshinobu.
?第9回より登場

<#青天を衝け 登場人物>

孝明天皇の妹宮。幼いころより許婚がいたにもかかわらず、幕府が目指す公武合体の象徴として、将軍・家茂との縁組みが浮上。固辞するもかなわず、泣く泣く降嫁した。しかし家茂の誠実な人柄に触れ、次第に心を開いていく。 pic.twitter.com/p2fGrB2VJ0

— 【公式】大河ドラマ「青天を衝け」 (@nhk_seiten) April 10, 2021
<#青天を衝け 登場人物紹介>

病にかかった慶喜の婚約者の代わりとして正室になる。一橋家の未亡人である徳信院と慶喜の恋仲を疑い、自殺未遂の騒動を起こした。付かず離れずの夫婦であるが、やがて慶喜のよき理解者となる。 pic.twitter.com/gyI6LVpKem

— 【公式】大河ドラマ「青天を衝け」 (@nhk_seiten) December 26, 2020