"Shigatsu wa Kimi no Uso" Musical with Ikuta Erika now in May 2022.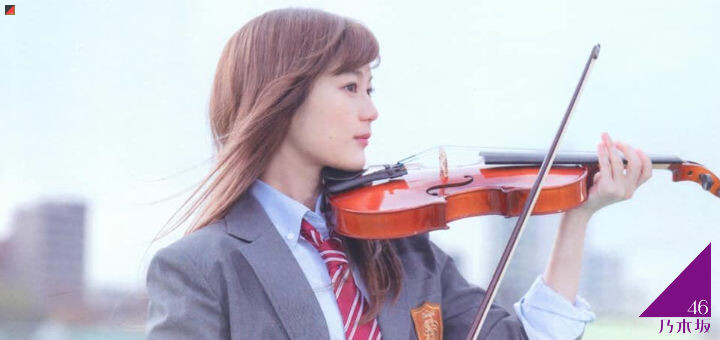 #乃木坂46, 生田絵梨花, #四月は君の嘘 – The musical adaptation of the popular manga Shigatsu wa Kimi no Uso (Your Lie in April) by Arakawa Naoshi starring Nogizaka46 member Ikuta Erika was actually scheduled for July 2020, but had to be cancelled before the premiere due to the Covid-19 pandemic. All six main actors put a lot of effort into the play, so they have reunited and the curtain can finally rise. Ikuta Erika is once again taking on the lead role of violinist Miyazono Kaori. The musical will now be performed at the Nissay Theatre in May 2022 .
Free-spirited 14-year-old violinist Miyazono Kaori, whose playing style reflects her manic personality, helps Kosei Arima, a piano prodigy, return to the music world by urging him to play the piano again. Kosei Arima suffered a trauma when at a competition his mother suddenly died and he could no longer hear his piano playing. Miyazono Kaori shows him through her violin playing that she is free and upbeat in contrast to the structured and rigid style Kosei plays. She eventually convinces Kosei to play the piano again, first as her accompanist and later in a piano competition. Kaori, however, has been suffering all her life from an unknown serious illness, from which she dies in the end.
日生劇場2022年5月公演ミュージカル『#四月は君の嘘』の上演が決定いたしました🎉
2020年7月に上演予定でした本作は開幕目前で全公演中止に…😢
その悔しさを晴らすべく、この度メインキャスト6名全員が再集結し、ついに幕を開けます✨
みなさま、どうぞご期待くださいませ!https://t.co/BiGQ9APhrH pic.twitter.com/YKamstrLg4

— ミュージカル『四月は君の嘘』公式 (@KimiUso_musical) July 21, 2021