Little Glee Monster release Cover to Mini Album "re-union"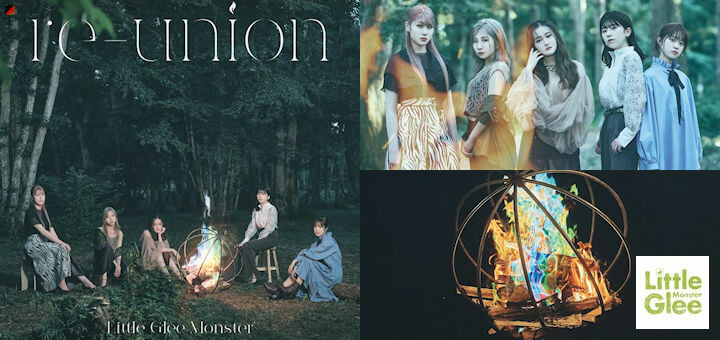 #リトグリ – The Japanese group Little Glee Monster has released the cover art for their upcoming "re-union" mini-album. In the album, the group deals with the turbulent last half year after LGM member Hasegawa Serina had to take a break due to health reasons in early December 2020. The time was processed within the two songs "Kimi to ire ba" and "REUNION" and appear together with the songs "Whenever you call" from the "Michi wa Jibun de Tsukuru 2021 Spring" commercial of the Starts Group and "VIVA". The mini-album will be released on 22 September 2021.
Kimi to ire ba – complete ver.
REUNION
Cover
Tracklist:
CD
M1: Kimi to ire ba – complete ver.
M2: REUNION
M3: Whenever You Call
M4: VIVA -Live On 2021.06.28-
M5: Kimi to ire ba
Blu-ray
Limited A: Little Glee Monster Arena Tour 2021 "Dearest" Live on 2021.01.28 Nippon Budokan
Limited B: Little Glee Monster Arena Tour 2021 "Dearest ∞ Future" Live on 2021.04.18 Saitama Super Arena
Little Glee Monster、ミニアルバム『re-union』リリース 伊藤美誠選手へプレゼントした「Whenever you call」など収録#LittleGleeMonster

— Real Sound(リアルサウンド) (@realsoundjp) August 16, 2021
💿9月22日リリースのミニアルバム「re-union」ジャケット写真公開📷

ミニアルバム詳細はこちらから👀https://t.co/LQQmIDnunH

初回限定盤A/Bには1月の日本武道館公演と4月のさいたまスーパーアリーナ公演ライブ映像をBDにて全曲収録🎤#リトグリ_君といれば https://t.co/H4xN6GcDIF pic.twitter.com/J5cXpZumwv

— Little Glee Monster (@LittleGleeMonst) August 28, 2021
CDJapan: