Winners and Nominations of the 63rd Japan Record Awards announced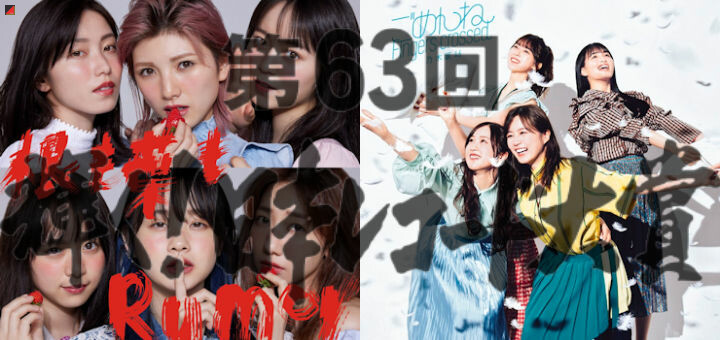 #AKB48, #乃木坂46 – The Japan Composer's Association announced the winners and nominees of this year's 63rd Japan Record Awards on 18 November 2021. Japanese idol groups AKB48 and Nogizaka46 were awarded the "Excellent Works Award" and are thus nominated for the main prize. Of particular importance to the committee in selecting this year's nominees for the "Excellent Works Award" were, in addition to AKB48 and Nogizaka46, the works of Awesome City Club, Junretsu, Da-iCE, DA PUMP, NiziU, Hikawa Kiyoshi, Miura Daichi, and LiSA. Due to the ongoing Covid-19 situation, some awards such as Best Album will not be awarded this year as well. Japanese TV station TBS (Tokyo Broadcasting System) will broadcast the award ceremony live on 30 December 2021.
Criteria for the Japan Records Awards.
Comment from committee chairman Fumihiko Sasomori (Nikkan Sports Shimbun): the "Excellent Works Award" is to be given to a work that is not only particularly popular with the public, but also possesses artistic excellence, originality, and outstanding planning, and represents the year in which it was released. It is an award that is meant to encompass more than the popularity of an artist or a particular song, and also how the piece in question has reached people of different generations.
63rd Japan Record Awards – Winners/Nominees
"Excellent Works Award" (Grand Prix): Nominees for Grand Prix
AKB48 – "Ne mo Ha mo Rumor"
Awesome City Club – "Wasurena"
Junretsu – "Kimi ga Soba no Irukara"
DA-iCE – "CITRUS"
DA PUMP – "Dream on the street"
NiziU – "Take a picture"
Nogizaka46 – "Gomenne Fingers crossed"
Hikawa Kiyoshi – "Happy!"
Miura Daichi – "Backwards"
LiSA – "Akeboshi"
Best New Artist Nominations
INI
TAEKO
Macaroni Enpitsu
Mochizuki Ruka
Special Award
Ado
Bank Band
Matsumoto Takashi
YOASOBI
Special International Music Award
Japan Composer's Association Award
Best Vocalist Award
Lifetime Achievement Award
Kawaguchi Makoto
Kobayashi Asei
Sakai Masatoshi
Sakamoto Sumiko
Jerry Fujio
Sugiyama Koichi
Terauchi Takeshi
Best Vocal Performance Award