AKB48 says goodbye to Mouri-P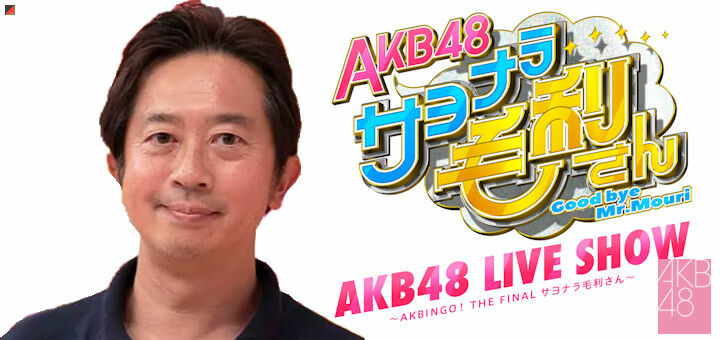 #AKB48, #毛利忍 – The Japanese idol group AKB48 says goodbye to longtime NTV "AKBingo!" producer Mouri Shinobu with a TV show and concert. Mouri Shinobu learned about AKB48 at a performance and was fascinated by the group. As a result, he and the group produced the TV variety show "AKB 1ji 59fun!" in January 2008, from which the well-known "AKBingo!" show was born. With "AKBingo!" a foundation stone was laid for many more successful "*Bingo!" shows for groups of the Japanese producer Akimoto Yasushi.
The TV show "AKB48 Goodbye Mr. Mouri" will be aired from 7 April 2022 with a new producer and production team. The concert "AKB48 LIVE SHOW – AKBINGO! THE FINAL Sayonara Mouri san" will take place on 3 April 2022 at PIA ARENA MM. It replaces in a condensed form the AKB48 concert weekend that was cancelled in January. It also includes AKB48 Team 8's 8th anniversary concert and the graduation ceremonies of three AKB48 members Miyazaki Miho, Iriyama Anna and Kato Rena.
AKB48 Homepage
AKB48 AKBingo! The Final LIVE
🌈BIG NEWS🌈#AKB48 の新冠番組👑
「AKB48 サヨナラ毛利さん」が
4/7(木)〜日テレでスタート🎉✨

そして‼️
新番組の記念ライブを
4/3(日)に開催します🥳㊗️

卒業セレモニーや#59thシングル 披露など
見どころ満載💖

チケット発売は3/4(金)12:00〜🔽https://t.co/2q2FYhTs4L#AKBサヨナラ毛利さん pic.twitter.com/LCZTCiYB6Z

— AKB48公式 (@AKB48_staff) March 3, 2022