Actually … Nogizaka46 with the worst Chart Entry in Years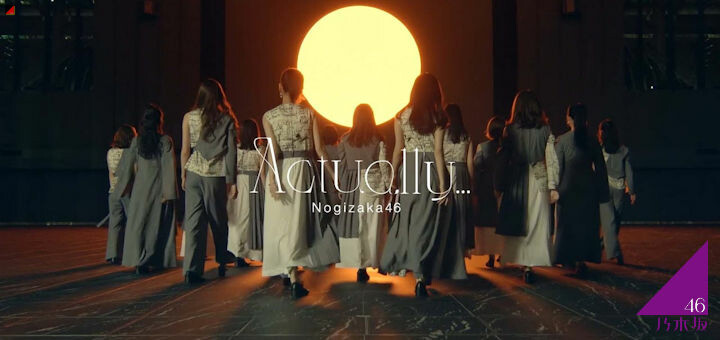 #乃木坂46 – Japanese idol group Nogizaka46 released their 29th single "Actually…" on 23 March 2022. The single sold 345,669 copies on the first day, and daily sales totaled 463,439 copies for the first week. This was consistently enough to take first places in the ORICON Daily Single and Weekly Single Chart but compared to pre-Corona singles, sales have halved. Currently, sales are at the same level as 2014.

Durch den Ausfall des ursprünglichen Centers Nakanishi Aruno sah sich das Management gezwungen den Song komplett neu zu produzeren. Dazu wurde eine neue Choreografie mit einem Doppel-Center aus Saito Asuka und Yamashita Mizuki einstudiert, der Song ohne Nakanishi Aruno neu gemixt und ein neues Musikvideo produziert. Diese Version des Songs und das Video sind beide nicht auf der 29. Single "Actually…" enthalten. Die Single enthält die ursprünglichen Versionen mit Nakanishi Aruno.
Actually… (Saito Asuka, Yamashita Mizuki Center Version)
Wasurenai to Ii na
Todokanaku tatte…
Kachiaru Mono
Senbatsu:
Nakanishi Aruno, Akimoto Manatsu, Saito Asuka, Higuchi Hina, Suzuki Ayane, Iwamoto Renka, Umezawa Minami, Kubo Shiori, Yamashita Mizuki, Yoda Yuuki, Endo Sakura, Kaki Haruka, Kakehashi Sayaka, Shibata Yuna, Seimiya Rei, Tamura Mayu, Tsutsui Ayame, Hayakawa Seira
New 2001 Flower Generation:
Kubo Shiori, Sakaguchi Tamami, Nakamura Reno, Endo Sakura, Kaki Haruka, Kanagawa Saya, Kitagawa Yuri, Sato Rika
5th Generation:
Ioki Mao, Ichinose Miku, Inoue Nagi, Ogawa Aya, Okuda Iroha, Sugawara Satsuki, Tomisato Nao, Nakanishi Aruno
Cover
Tracklist
CD
M1: Actually… – Senbatsu
M2: Fukayomi (深読み) – Senbatsu
M3A: Kachiaru Mono (価値あるもの) – New 2001 Flower Generation
M3B: Wasurenai to Ii na (忘れないといいな) – Kitano Hinako
M3C: Todokanaku tatte… (届かなくたって…) – UNDER Members
M3D: Zetsubou no Ichibyou Mae (絶望の一秒前) – 5th Generation
M3R: Suki ni Natte Mita (好きになってみた) – Senbatsu
Blu-ray
B1: Actually… Music Video
B2A: Kachiaru Mono Music Video
B2B: Wasurenai to Ii na Music Video
B2C: Todokanaku tatte… Music Video
B2D: Zetsubou no Ichibyou Mae Music Video
B3A: 5th Generation Documentary: Ioki Mao, Ichinose Miku, plus one additional member
B3B: 5th Generation Documentary: Inoue Nagi, Ogawa Aya, plus one additional member
B3C: 5th Generation Documentary: Okuda Iroha, Sugawara Satsuki, Tomisato Nao, Nakanishi Aruno
B3D: Making of 5th Generation MV
CDJapan: