Graduation Ceremony announced for Kageyama Yuuka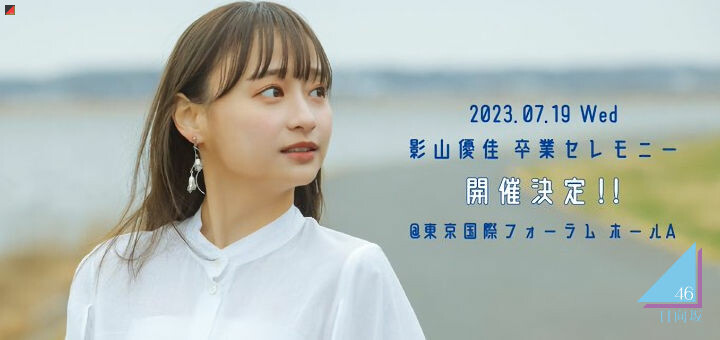 #日向坂46, #影山優佳 – Japanese idol group Hinatazak46 has announced the date for the graduation ceremony for its member Kageyama Yuuka. The ceremony will be held on 19 July 2023 in Tokyo International Forum Hall A. The ceremony will be a mixture of talk show and concert due to her hearing problems.
With Kageyama Yuuka another highly interesting member leaves the group at a young age. Already in Hiragana Keyaki times she took a longer break to prepare for the entrance examination at Tokyo University. Later, during a self-documentation, she confessed that she did not take the exam due to mental problems. At that time, she was torn between the group and her education and was thinking about graduation.
After returning to Hinatazaka46 , the media noticed her exceptional intellect and expertise in soccer so she was regularly invited to quiz and soccer shows. Unfortunately, due to the increasing stress, an old childhood affliction became noticeable again and Kageyama Yuuka developed problems with loud music, especially at concerts. She wanted to graduate from the group in the summer of 2022, but wanted to promote Hinatazaka46 again with her work as a presenter during the World Cup2022 and therefore postponed her graduation.
7月19日(水)に東京国際フォーラム ホールAにて日向坂46「影山優佳 卒業セレモニー」の開催が決定致しました⚽️

5月20日(土)10:00〜 #日向坂46ファンクラブ 会員の抽選先行受付もスタート🎫

皆さまのご応募お待ちしております☀️#影山優佳卒業セレモニー#日向坂46#影山優佳https://t.co/4RdVCvQI4x

— 日向坂46 (@hinatazaka46) May 20, 2023