New Sakamichi Talent Power Ranking released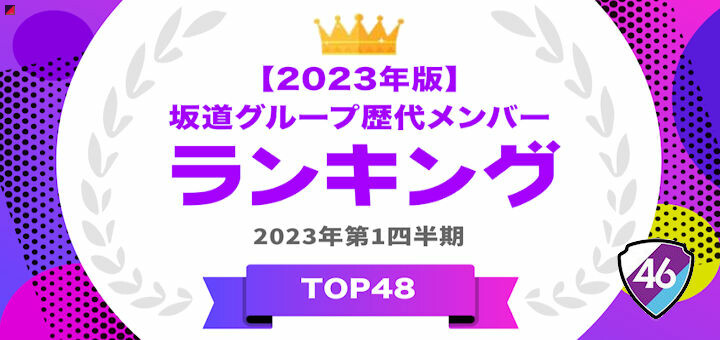 #乃木坂46, #日向坂46, #櫻坂46 – Japanese market research institute Architect Co. Ltd. has released the results of its new Talent Power Rankings in collaboration with Japanese magazine Nikkei Enterteinment. Data on 1280 talents are regularly collected in various categories, including members of the three Sakamichi Idol groups. On 19 May 2023, the ranking of the 48 most popular active and former Sakamichi members were released.
Many top 30 positions are held by former Nogizaka46 members such as Shiraishi Mai, Nishino Nanase and Ikuta Erika and by two former Keyakizaka46 members Hirate Yurina and Nagahama Neru. Yamashita Mizuki (Nogizaka46) leads the active members ahead of Saito Kyoko and Kagayama Yuuka (both Hinatazaka46). Tamura Hono and Moriya Rena are the two highest listed Sakurazaka46 members, ranking 30th.
Ranking Active Members:
07. (Nogizaka46) Yamashita Mizuki: 14.1
10. (Hinatazaka46) Saito Kyoko: 11.0
12. (Hinatazaka46) Kageyama Yuuka: 10.4
13. (Nogizaka46) Yoda Yuki: 10.2
15. (Nogizaka46) Umezawa Minami: 9.3
17. (Hinatazaka46) Kato Shiho: 7.8
18. (Hinatazaka46) Kosaka Nao: 7.7
20. (Hinatazaka46) Sasaki Mirei: 7.6
23. (Hinatazaka46) Sasaki Kumi: 7.3
26. (Nogizaka46) Endo Sakura: 7.2
27. (Nogizaka46) Kubo Shiori: 7.1
29. (Hinatazaka46) Kanemura Miku: 7.0
30. (Sakurazaka46) Tamura Hono: 6.8
30. (Hinatazaka46) Nibu Akari: 6.8
30. (Sakurazaka46) Moriya Rena: 6.8
34. (Sakurazaka46) Kobayashi Yui: 6.6
35. (Nogizaka46) Kanagawa Saya: 6.5
35. (Sakurazaka46) Matsuda Rina: 6.5
38. (Nogizaka46) Kaki Haruka: 6.3
38. (Sakurazaka46) Habu Mizuho: 6.3
38. (Sakurazaka46) Morita Hikaru: 6.3
41. (Hinatazaka46) Takamoto Ayaka: 6.2
41. (Sakurazaka46) Yamasaki Ten: 6.2
44. (Sakurazaka46) Fujiyoshi Karin: 6.1
46. (Nogizaka46) Tsutsui Ayame: 5.9
Top 48 Ranking:
01. (Ex-Nogizaka46) Shiraishi Mai: 24.2
02. (Ex-Nogizaka46) Nishino Nanase 20.2
03. (Ex-Keyakizaka46) Hirate Yurina 19.0
04. (Ex-Nogizaka46) Ikuta Erika 17.9
05. (Ex-Nogizaka46) Saito Asuka 17.5
06. (Ex-Nogizaka46) Ikoma Rina: 16.9
07. (Nogizaka46) Yamashita Mizuki: 14.1
08. (Ex-Keyakizaka46) Nagahama Neru: 14.0
09. (Ex-Nogizaka46) Akimoto Manatsu: 13.9
10. (Hinatazaka46) Saito Kyoko: 11.0
11. (Ex-Nogizaka46) Ichiki Rena: 10.5
12. (Hinatazaka46) Kageyama Yuuka: 10.4
13. (Ex-Nogizaka46) Matsumura Sayuri : 10.2
13. (Nogizaka46) Yoda Yuki: 10.2
15. (Nogizaka46) Umezawa Minami: 9.3
16. (Ex-Nogizaka46) Takayama Kazumi: 8.8
17. (Hinatazaka46) Kato Shiho: 7.8
18. (Hinatazaka46) Kosaka Nao: 7.7
18. (Ex-Nogizaka46) Wakatsuki Yumi 7.7
20. (Hinatazaka46) Sasaki Mirei: 7.6
21. (Ex-Nogizaka46) Saito Chiharu: 7.4
21. (Ex-Nogizaka46) Yamazaki Rena: 7.4
23. (Hinatazaka46) Sasaki Kumi: 7.3
23. (Ex-Nogizaka46) Sakurai Reika: 7.3
23. (Ex-Nogizaka46) Hori Miona 7.3
26. (Nogizaka46) Endo Sakura: 7.2
27. (Nogizaka46) Kubo Shiori: 7.1
27. (Ex-Nogizaka46) Fukagawa Mai: 7.1
29. (Hinatazaka46) Kanemura Miku: 7.0
30. (Sakurazaka46) Tamura Hono: 6.8
30. (Hinatazaka46) Nibu Akari: 6.8
30. (Sakurazaka46) Moriya Rena: 6.8
33. (Ex-Hinatazaka46) Watanabe Miho: 6.7
34. (Sakurazaka46) Kobayashi Yui: 6.6
35. (Nogizaka46) Kanagawa Saya: 6.5
35. (Sakurazaka46) Matsuda Rina: 6.5
37. (Ex-Sakurazaka46) Sugai Yuuka: 6.4
38. (Nogizaka46) Kaki Haruka: 6.3
38. (Sakurazaka46) Habu Mizuho: 6.3
38. (Sakurazaka46) Morita Hikaru: 6.3
41. (Hinatazaka46) Takamoto Ayaka: 6.2
41. (Sakurazaka46) Yamasaki Ten: 6.2
41. (Ex-Sakurazaka46) Watanabe Risa: 6.2
44. (Ex-Nogizaka46) Shinuchi Mai: 6.1
44. (Sakurazaka46) Fujiyoshi Karin: 6.1
46. (Nogizaka46) Tsutsui Ayame: 5.9
47. (Ex-Nogizaka46) Eto Misa: 5.7
48. (Ex-Nogizaka46) Ito Marika 5.6